Human Biology Level 3
Semester Year 2018/19
These resources are relevant to several areas of the Human Biology Course and should be useful throughout the year.

Cells and Tissues

2 items

These resources are particularly useful for block 1 but will help you throughout the course

Cellular physiology and neurophysiology - Mordecai P. Blaustein, Askews & Holts Library Services 2012

Book Recommended This is a great book if you are struggling with the concepts in your membrane transport sessions. You will also find useful information on the electrical properties of membranes and the cellular mechanisms of muscle contraction here.

Webpage Recommended A very useful online tutorial that explains the Nernst equation and other aspects of electrophysiology.

Resources related to the nutrition block, and for those of you combining Human Biology and Nutrition

Musculoskeletal System

1 item

Cardiovascular and Respiratory Systems

9 items

Respiratory physiology: the essentials - John B. West c20121609136403,9781609136406

Book Recommended A classic book on respiratory physiology, this is a very small book that contains a wealth of information.

The ECG made easy - John R. Hampton, Dawson Books 2013

Book Recommended Excellent, clear explanations of how to interpret abnormal ECGs.

Webpage Recommended A useful online resource on ECG interpretation.

Webpage Recommended A useful online resource which explains what you hear when you listen to heart sounds. You should focus on the normal heart sounds, although this site has recordings and explanations of abnormal examples.

ACSM's resource manual for Guidelines for exercise testing and prescription - Jonathan K. Ehrman, American College of Sports Medicine c2010078176906X,9780781769068

Book Recommended Chapters 19 and 21 are recommended reading for your lab session on maximal exercise testing. The extract from Chapter 19 deals with the preparation, risk to volunteers and resting values. The section from Chapter 21 deals with conduct of the test, ends points and interpretation of data.

Endocrine and Renal Systems

3 items

Renal physiology - Bruce M. Koeppen, Bruce A. Stanton 2012

Book Further An easy-to-read book focusing on renal physiology with examples of how this applies to clinical conditions.

How animals work - Knut Schmidt-Nielsen 19720521096928

Book Further Classic Reading on comparative Physiology - sections on temperature regulation are relevant to this block.

Gastrointestinal physiology - Leonard R. Johnson 20140323100856,9780323100854

Book Further This book is useful for all aspects of GI function, but is particularly useful for the intestinal absorption components of your course.

Challenges: Individual and Society

7 items

Scientific Skills

21 items

These resources are recommended to support the Scientific Skills lectures and workshops throughout the course.

Scientific Method and Research

2 items

Journal Recommended This is a link to the Journal of Physiology. It is recommended you access this Journal regularly to keep up to date with current ideas and findings relevant to Human Biology.

These books are aimed at a general readership and are for those of you who would like to do some wider background reading related to your degree subject when you want a break from study. They may not be directly related to course content, but are enjoyable reads.

Creative Commons Attribution-ShareAlike 4.0 Licence
Profile Required
Reading intentions and notes are stored against your user profile. Please create a profile to use this feature.
My notes
You must be logged in to add a note
What are item notes?
You can use item notes to make personal notes on any of your reading items. Notes are private to you and will not be shown to other users.
You can review your item notes from the list, the item page or from your profile page.
---
How do I create an item note?
To make notes, first you must be logged in. Once logged in, simply click Add note? next to the list item you wish to make notes on. You can also make notes at the bottom of every item's detail page.
Your note will be saved automatically as you type.
Have you read this?
You must be logged in to set a reading intention
What are reading intentions?
Setting up reading intentions help you organise your course reading. It makes it easy to scan through your lists and keep track of progress. Here's an example of what they look like: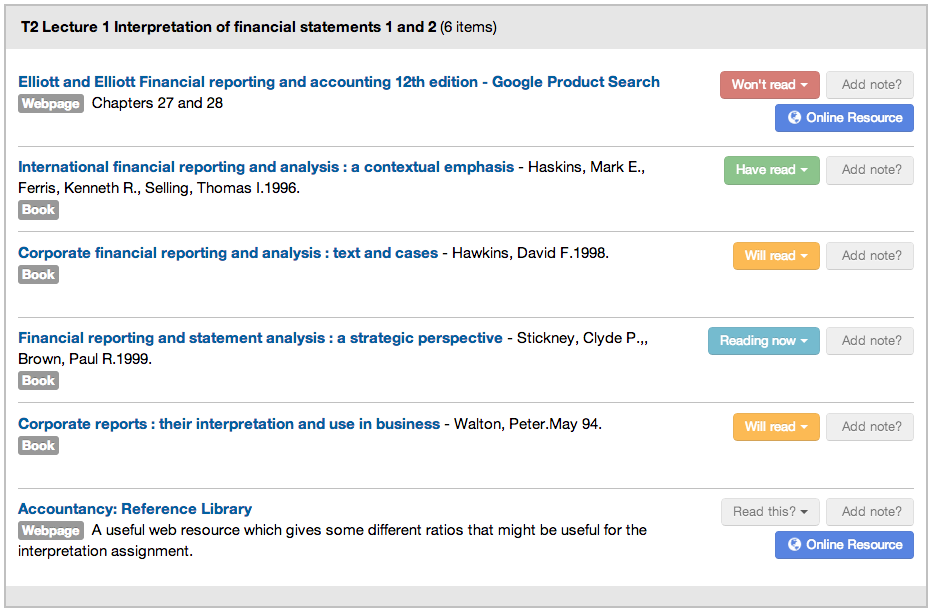 Your reading intentions are also stored in your profile for future reference.
---
How do I set a reading intention
To set a reading intention, first you must be logged in. Once logged in, click Read this? next to the list item you wish to set a reading intention for.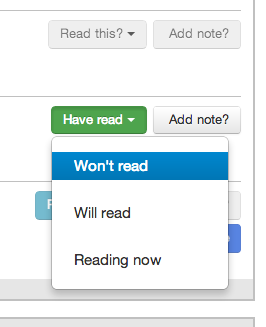 You can also set the reading intention from every item's detail page.