Environmental policies and problems in China
Semester Two 2018/19
There are no text books for the course.

Essential and further readings are listed under each seminar heading. At the very least, the essential readings from the list should be read for each seminar. However, these are far from exhaustive lists of titles, and the reading lists should be taken as the starting point of your research rather than the finishing point. A vast amount of literature on environmental policies and problems in China has been published in recent years and is constantly coming out. Students are expected and encouraged to conduct their own searches in the University Library, make use of its book and journal holdings, e-journals, e-books, and electronic databases.

The Glasgow University Library holds several journals devoted to China which frequently publish articles on environmental topics. You should consult, particularly when writing your essay:

The China quarterly - Congress for Cultural Freedom, International Association for Cultural Freedom, University of London. Contemporary China Institute, University of London. School of Oriental and African Studies 1960- (electronic resource)

Journal

Modern China - JSTOR (Organization), Thomson Gale (Firm) 1975- (electronic resource)

Journal

In addition, a large number of environmental social science journals regularly cover China. You should look at:

Development and change - Institute of Social Studies (Netherlands), EBSCO Publishing (Firm) (electronic resource)

Journal

The following newspapers regularly report on Chinese environmental issues:

The New York times - LexisNexis (Firm), Thomson Gale (Firm) 1857- (electronic resource)

Journal

Internet Resources

14 items

International governmental organisations

6 items

Website For information on development projects funded by this body.

Webpage For information on development projects and more. See especially publications by UNDP, UNEP

Website World Bank main site in English

International NGO websites

1 item

Official Chinese government sites

7 items

Website China's official English language newspaper

Ministry of Environmental Protection publications

Webpage See in particular: China State of the Environment Reports (since 1991 in both Chinese and English - factual and comprehensive info about state of environment) ; China Environment Yearbook (in Chinese and English, provides coverage of events and actions during the year including legislation and international cooperation) ; China Environmental Statistics Yearbook (more detailed than State of the Environment reports, from 2005 available also in English)

China Statistical Yearbook-2014

Webpage See: section on environmental data (includes data from Min Water Resources, Construction, Land and Resources as well as the State Forestry Administration and State Oceanic Administration). Click "General Survey" on the drop down menu.

Website Official information includes material on the governmental system as well as government White Papers.

Website Mainland Chinese official news agency

Week 1: Introduction: limits to growth, sustainability, stewardship

6 items

Week 2: Environmental policy in transition: from Mao to the Reform Era

10 items

Essential Reading

2 items

Week 3: China's Environmental Policy Challenges

20 items

Essential Reading

2 items

Week 4: China's Environmental Politics

38 items

Essential Reading

2 items

Webpage Further See: Ma, T. 'Environmental mass incidents in rural China', pp. 33-37.

Week 5: Air Quality

38 items

Week 6: Water Quality and Supply

37 items

Week 7: Agriculture and Food Security

52 items

Week 8: China's Energy Policy and the Environment

28 items

Week 9: Urbanisation and Consumption

31 items

Essential Reading

2 items

Week 10: China's Role in Global Climate Change

27 items

Rising China: global challenges and opportunities 20111921862289,9781921862281

Book Further See: Zhang, Y. 'Promoting Global Carbon Equity and Low-Carbon Growth: China's role in combating global climate change. Rising China: Global Challenges and Opportunities, pp. 137-148.

Creative Commons Attribution-ShareAlike 4.0 Licence
Profile Required
Reading intentions and notes are stored against your user profile. Please create a profile to use this feature.
My notes
You must be logged in to add a note
What are item notes?
You can use item notes to make personal notes on any of your reading items. Notes are private to you and will not be shown to other users.
You can review your item notes from the list, the item page or from your profile page.
---
How do I create an item note?
To make notes, first you must be logged in. Once logged in, simply click Add note? next to the list item you wish to make notes on. You can also make notes at the bottom of every item's detail page.
Your note will be saved automatically as you type.
Have you read this?
You must be logged in to set a reading intention
What are reading intentions?
Setting up reading intentions help you organise your course reading. It makes it easy to scan through your lists and keep track of progress. Here's an example of what they look like: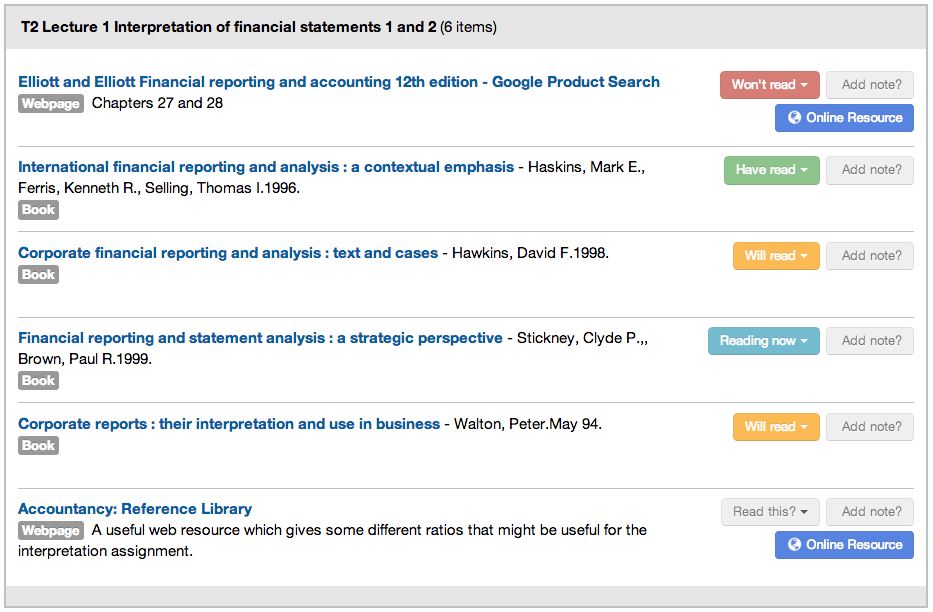 Your reading intentions are also stored in your profile for future reference.
---
How do I set a reading intention
To set a reading intention, first you must be logged in. Once logged in, click Read this? next to the list item you wish to set a reading intention for.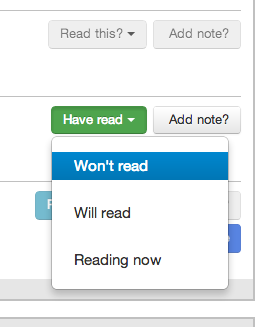 You can also set the reading intention from every item's detail page.