Descriptions of Language and Applications to the classroom
Semester One 2019/20
The Reading List is organised as follows: A key background reading section of books/articles/online resources that will provide a foundation for weekly topics. For each unit, there is a core reading section and further reading. The latter provides additional references should you wish to read in more depth, e.g. for an assignment. There may also be a materials/resources section related to moodle tasks for the course. Occasionally you may see a book that is unavailable online, but may be of interest to look out for, for further reading. N.B. This Reading list is being updated throughout the semester.

General Background Reading & Practical Resources (web-site links)

9 items

This section contains general introductory reading and web-sites that may prove useful for finding examples of practical class room activities .

The Routledge handbook of discourse analysis - Gee, James Paul, Handford, Michael 2011

Book Recommended This handbook (and series) provides short chapter introductions to a wide range of areas. Worth 'dipping into as part of your reading (but expensive to buy- use in library)

TeachingEnglish | British Council | BBC

Website The British Council site has a wide range of practical resources, introductory articles and so on. The English grammar on Learn English provides a very accessible introduction to terms/meta language. (https://learnenglish.britishcouncil.org/en/english-grammar)

Publisher site: Macmillan English

Webpage The Macmillan site has a range of resources available. It includes a resource finder section which will allow you to search for plans and practical activities. (e.g. try searching 'vocabulary' and see what you can find)

DoL: Discourse Analysis(DA)

29 items

The Discourse Analysis (DA) component of DoL is separated into three parts and three weeks: Exploring written discourse Exploring spoken discourse Practical applications

DA1 Exploring Written Discourse: Core Reading

10 items

DA1 introduces key terms and focuses on written discourse. A number of books are included here (as there are limited numbers)

DA1 Further Reading

18 items

There is a wide range of literature relating to discoruse analysis, inclduing genre analysis. This list of additional reading is for those wiht a particular interest in the area. You may also find sources here that can help with more in-depth study of terminology, which can be helpful for the assignment.

Cohesion in English - M. A. K. Halliday, Ruqaiya Hasan, Ebooks Corporation Limited 1976

Book Essential This provides a very in depth coverage of cohesion

Discourse analysis for language teachers - McCarthy, Michael 19910521365414,0521367468,9780521367462

Book Essential An older book but one this is very oriented to the language teachers and covers a wide range of points. A solid introduction. You should read this

Discourse analysis - Brown, Gillian, Yule, George 19830521241448,0521284759

Book Recommended An older book but well worth referring to for detail

DA2 Exploring Spoken Discourse

23 items

DA2: Core Reading

12 items

Register, genre, and style - Douglas Biber, Susan Conrad, Askews & Holts Library Services 2009

Book Pre-reading: Read Chapter 4 in particular for interpersonal spoken registers.

Introducing applied linguistics: concepts and skills - Susan Hunston, David Oakey, Dawson Books c2010 (electronic resource)

Book Pre-reading: Read Chapter 4 by Koester, for an introduction to Conversation Analysis, the structure of spoken interaction and an overview of key terms. Chapter 16 introduces corpora as a means for exploring spoken discourse. This book, in fact, includes a number of accessible introductions to a range of aspects in applied linguistics.

Pragmatics and discourse: a resource book for students - Joan Cutting c20020415253578,0415253586,9780415253581

Book This book, in addition to covering key terms for cohesion, has a strong focus on spoken interactions and addresses politeness, speech acts and so on. Very accessible.

Conversation - Nolasco, Rob, Arthur, Lois 19870194370968,9780194370967

Book Essential This is a practical book and has some activities related to classroom practice

Reading related to Classroom Discourse

7 items

Investigating classroom discourse - Steve Walsh 2006

Book Essential This provides more detailed analysis of classroom interaction (MSc students will also cover in CP )

DA2: Further Reading

11 items

Exploring spoken English - Carter, Ronald, McCarthy, Michael 19970521560497,0521567777,0521568609,9780521567770

Book Recommended

Analysing casual conversation - Eggins, Suzanne, Slade, Diana 19970304337285,0304337293

Book Good level of detail for aspects of casual conversation

Speaking - Bygate, Martin 19870194371344,9780194371346

Book Recommended Older but a practically oriented book

Reading in support of DA 3 workshop

5 items

These references will provide some background for the texts in DA 3

The following references will help you research the background to the specific text types in the assignment

Lexis and semantics

31 items

The lexis and semantics component of DOL runs over three weeks. We will look at how words create meaning both in written and spoken texts.

Additional further reading (if other books unavailable, you will find these may be useful)

17 items

Syntax reading list

45 items

The lexis and syntax components belong together; with lexis looking at smaller units and syntax at larger units of language. In this component we look at how grammar creates meaning in both written and to some extent spoken texts. There are 3 main approaches: structural, functional and cognitive, with the structural being the more traditional approach.

Uncovering grammar - Thornbury, Scott c2005

Book Recommended Grammar as Process, pp.1-14 available online.

How to teach grammar - Scott Thornbury c1999

Book How to Teach Grammar Through Texts, pp.69-90 available online.

Phonetics & Phonology

27 items

Core Reading and Resources

7 items

Introductory and Foundation Resources

4 items

English spelling - Carney, Edward 19970415161096

Book Some useful insights into the connection (and lack of) between spelling and phonology

A Selection of Teaching Textbooks Available in the Library

4 items

Various course books on English pronunciation, often with accompanying audio material, are kept both in the Main Library and the Language Centre Library: simply search the main catalogue and check the location. A selection are included below:

Speaking clearly: pronunciation and listening comprehension for learners of English - Rogerson, Pamela, Gilbert, Judy B. 19900521312957,0521312876,0521321875,9780521312950,9780521312875,9780521321877

Book Good on supra-segmental features: stress, rhythm, etc.

The power of language: how discourse influences society - Lynne Young, Michael Fitzgerald, Saira Fitzgerald 20189781781790809,9781781790793

Book Essential This book provides a practical introduction to processes and participants. See particularly chapter 1. It provides a very clear introduction to looking at processes and participants .

Creative Commons Attribution-ShareAlike 4.0 Licence
Profile Required
Reading intentions and notes are stored against your user profile. Please create a profile to use this feature.
My notes
You must be logged in to add a note
What are item notes?
You can use item notes to make personal notes on any of your reading items. Notes are private to you and will not be shown to other users.
You can review your item notes from the list, the item page or from your profile page.
---
How do I create an item note?
To make notes, first you must be logged in. Once logged in, simply click Add note? next to the list item you wish to make notes on. You can also make notes at the bottom of every item's detail page.
Your note will be saved automatically as you type.
Have you read this?
You must be logged in to set a reading intention
What are reading intentions?
Setting up reading intentions help you organise your course reading. It makes it easy to scan through your lists and keep track of progress. Here's an example of what they look like: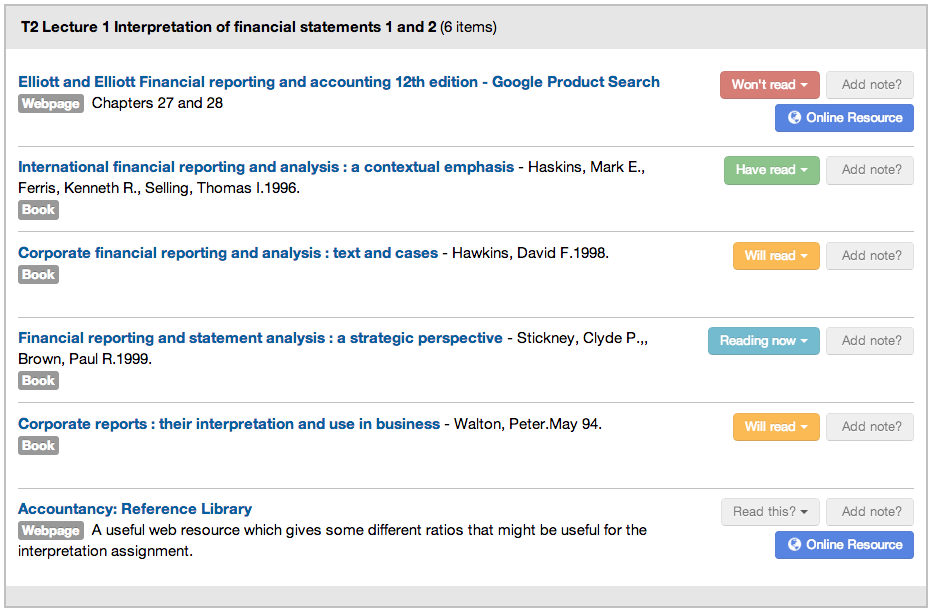 Your reading intentions are also stored in your profile for future reference.
---
How do I set a reading intention
To set a reading intention, first you must be logged in. Once logged in, click Read this? next to the list item you wish to set a reading intention for.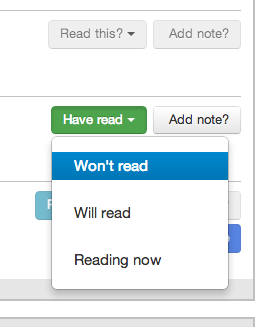 You can also set the reading intention from every item's detail page.