Class and Stratification
Semester Two 2018/19
Core Readings, Websites and Journals

58 items

There is no single 'textbook' for the course, and different texts will be used in each session. The following books are recommended as general introductory/core texts for the course, in addition to the more specific texts for each week.

If you are new to sociology I would recommend having a sociology dictionary at hand, the best of which is:

If you wanted to buy one book, a good overall text for the course is:

Other general books on class and other vectors of inequalities are:

A very good introduction to the economic history of global inequality is:

A good, recent, statistically based discussion of UK-level inequality is:

If you are interested in class in Scotland I would recommend:

Good texts which would be relevant to the Bourdieusian/class as cultural thesis are the following:

Good texts which attack the concept of class, from various perspectives include:

On gender and race, ethnicity and class

Other books on global inequalities

Internet Resources

8 items

The main sources for this course are given under the reading lists, however there are some online resources you may find interesting:

Webpage Erik Olin Wright's website, which includes copies of almost everything he's ever written.

Webpage If you're interested in Marxist understanding of class, this is basically a treasure trove, with copies of most of Marx and Engels' work and extracts from others.

The British Sociological Association

Website This is the website of the British Sociological Association. You may well find some of the links listed here useful, or it may be useful for some background into British Sociology.

Website A blog run by sociologists of work, Lynne Pettinger and Dawn Lyon. This isn't directly about class, but provides interesting read in relation to work.

Academic journals are of course central to academia as a field. At this point in your academic career, I would expect you to begin seeing them as one of your (if not, the) main sources of information. This is especially true for your assessments; the best work will make use of resources beyond the reading list and the best way of locating such work is by looking through journals.

Given the centrality of class and stratification to sociological research, a look at recent copies of various journals is likely to provide some interesting case studies. Some of the best for this course include:

Acta sociologica - Scandinavian Sociological Association, Nordic Sociological Association, EBSCO Publishing (Firm), JSTOR (Organization) 1955- (electronic resource)

Journal

Contemporary sociology - American Sociological Association, EBSCO Publishing (Firm), JSTOR (Organization) 1972- (electronic resource)

Journal

Current sociology - International Sociological Association (electronic resource)

Journal

Race & class - Thomson Gale (Firm) (electronic resource)

Journal

The international migration review - Center for Migration Studies (U.S.), Centro studi emigrazione, EBSCO Publishing (Firm), JSTOR (Organization) 1966- (electronic resource)

Journal

1. Introduction: Is the world equal?

8 items

Essential Readings

2 items

NB. When I list more than one reading as 'essential', they are listed in order of importance.

Social Trends 40: Full Report 2010

Document Further Chapters are themed by social issues, e.g. education, income, health etc., but almost all discuss an element of inequality. Read the two or three which seem most interesting to you.

2. The Marxist Theory of Class and its Critics

15 items

Essential Reading

5 items

Critiques and responses

10 items

Understanding class - Erik Olin Wright 20159781781689455,9781781689202

Book See: Wright, Erik Olin. 2015. "The Death of Class Debate", pp. 139-156.

3. The New Middle Class

18 items

Social classes change over time. In this class we will look at the emerging "middle class" as a sociologically significant phenomenon for understanding the ways inequalities are currently shifting, in a time of changing economic organization (production and consumption patterns, types of industries) and related social transformations.

Social change and the middle classes - Tim Butler, Michael Savage, Dawson Books 1995

Book See: Carter Bob and Peter Fairbrother. 1955. "The Remaking of the State Middle Class," pp. 133-147.

Remembering elites - Michael Savage, Karel Williams 2008

Book See: Du Gay, Paul. 2008. "Keyser Soze Elites: Market Populism and the Politics of Institutional Change." Available via the Online Resource button.

4. Pierre Bourdieu and Cultural Capital

15 items

Inequalities and stratification cannot be fully understood without looking at Bourdieu's contribution to this sociological field. Perhaps his most relevant contribution has been the concept of "Cultural Capital", which we will discuss in-depth in this class. We will look at how "cultural capital" shapes economic inequalities but also how it operates as a vector for racial inequalities and the importance of keeping this kind of "capital" always in focus for understanding inequalities at any scale, i.e. urban, national or global.

Core texts by Bourdieu

4 items

Some secondary readings and analysis:

4 items

Approaches to Class Analysis - Erik Olin Wright 2005 (electronic resource)

Article See: Weininger, Elliot (2005) 'Foundations of Pierre Bourdieu's Class Analysis'

On racialized cultural capital:

7 items

5. The 'Death' and Rebirth of Class?

18 items

In the immediate post-war period it seemed that the class structure had undergone some fundamental changes. The proletariat of earlier years (poor men working in manual labour jobs and involved in their trade union/local labour club), it was argued, had begun to disappear. Instead, with the emergence of 'post-industrial' society, those same individuals now had office or service sector jobs and, with the growth of the welfare state, poverty was not the problem it previously was. This meant this group had supposedly become middle class, with disposable income, a car, a summer holiday and broadly conservative (with a small c) or apolitical views. In the language of the time, they had undergone a process of 'embourgeoisiement'. When you add in the entrance of women into the labour market, it seemed that the strict hold of the class system was beginning to lessen. In the most radical suggestion, it was argued that, not for the first or last time, class had 'died'. How accurate a portrayal of this of post-industrial life? In response to these claims it was argued that in fact the shift to service or office work is no improvement at all. Such jobs were generally lower paid, unskilled, heavily surveilled and with little job satisfaction. The idea that they had produced an 'affluent worker' came in for heavy criticism and some argued that actually such jobs had been 'proletarianised'. Sitting in a call centre all day is no different from working on a curvier belt, such service jobs had been 'deskilled', and therefore generated little change to the class structure. Lately, however, there has been a 'rediscovery' of class divisions, and an interest in applying Bourdieu's model of capitals to understanding class in Britain. Here, Bourdieu's major contribution was to shift the focus away from occupation or income and onto culture, more specifically, the way in which people use cultural knowledge and expertise to signify their class position. In the words of Bourdieu: how they utilise 'cultural capital'. Bourdieu combined this with the concepts of social and economic capital to demonstrate how class is reproduced through the 'habitus' we need to acquire for the various 'fields' which we occupy. Middle-class taste is validated and working-class is rejected and denigrated, a process which the education system plays a large part in achieving. In particular, we focus on the way in which the middle classes demonise sections of the working class based on what they consider to be 'pathological' consumption choices – focusing in particular on the 'Chav' phenomenon in Britain. We will argue that investigating class and stratification needs to draw upon both 'economic' and 'cultural' approaches.

Essential Reading

2 items

Myths at work - Harriet Bradley 20000745622712,0745622704

Book Further See section: 'The Myth of the Death of Class'.

The death of class - Jan Pakulski, Malcolm Waters 19960803978383,0803978391

Book Further Later, more postmodern argument for the rejection of class, but fits much of this weeks' discussion

Approaches to Class Analysis - Erik Olin Wright 2005 (electronic resource)

Book Further See: Chapter 6 by Pakulski on 'post-class analysis'.

6. Class, Race and Gender: Multiple Inequalities

33 items

In this lecture, we will explore the interrelations between class, gender, ethnic and racial inequalities through the concept of intersectionality. In particular, we will show that these inequalities are often mutually produced and reproduced through formal and informal practices in health and education. Such inequalities are often invisible to people in dominant groups.

Essential Reading

2 items

Gender inequalities in the 21st century: new barriers and continuing constraints - Jacqueline L. Scott, Rosemary Crompton, Clare Lyonette 20101848444389,9781848444386,9781849800792

Book Further See: Crompton, R., Lyonette, C., 'Family, Class and Gender 'Strategies' in Mother's Employment and Childcare', pp. 174-92.

Ethnicity - Steve Fenton, Dawson Books 2010

Book Further See: The demise of race: the emergence of ethnicity, pp. 51-70.

Women, citizenship and difference - Nira Yuval-Davis, Pnina Werbner 19991856496457,1856496465,9781856496452,9781856496469

Book Further See: Hill Collins P., Producing the mothers of the nation: race, class and contemporary US population policies.

Race and ethnicity in the 21st century - Alice Bloch, John Solomos 20100230007783,0230007791,9780230007789,9780230007796

Book Further See: Virdee S., Continuing Significance of 'Race': Racism, Anti-racist Politics and Labour Marjets, pp. 62-92.

7. Facing an Unequal World

27 items

Globalization does not affect every country, every community or every person in the same way. Indeed, there are substantial differences in extent and nature of how globalization alters the lives of people between different world regions and countries. In this lecture, we will explore the growing importance of some forms of inequality in a globalising world and how they interact with more traditional bases of inequality. We will examine how globalisation has impacted social structures in societies (in both the global North and South) and potentially contributed to the widening of (some forms of) social inequalities.

Essential Reading

2 items

8. "Doing the dirty work": the New International Division of Reproductive Labour

27 items

Increasingly, women from the Global South migrate and take up jobs as sex workers, domestic workers and nurses in the Global North while others work in caring professions. Such forms of migration highlight the globalisation of the caring industry and the subordination of women within this newly emergent international division of reproductive labour, described by Bridget Anderson (2000) as "the dirty work" of globalisation. Concepts such as, global care chains, transnational gender orders, transnational care regimes and queer transnationalism situate inequality analysis in the context of cross-border relations and practices. This week we take a look at how migrants often occupy highly gendered labour market niches. In this lecture, we will examine these fields, including global care chains; structural change in developed societies and gendered demand for migrant labour.

Essential Reading

3 items

Audio-visual document Essential A film about migrant women in different European countries produced by the European Women's Lobby .

10. Globalisation, Land Conflicts and Inequalities in Africa

18 items

The debates over land access in Africa are often framed as a referendum on the market – that is, as a debate pitting advocates of the growth promoting individualization of property rights against those who call for protecting the livelihoods and subsistence rights of small farmers. The lecture unpacks the roots of land conflicts in Africa thorough understanding of the complex social and political contradictions, which have followed from colonial and post-independence land policies as well as from Africa's 'development' and capital accumulation trajectories, especially with regard to land rights, land tenure and land use. Together, they serve to illustrate both the complexity of contemporary land conflicts in Africa, and their importance as sites of debate over the social meaning of property, and the place of the past in contemporary struggles over governance and the distribution of resources.

Essential Reading

2 items

Negotiating property in Africa - Kristine Juul, Christian Lund c2002

Book Further See: Peters, P., 'The Limits of Negotiability: Security, Equity and Class Formation in Africa'.

11. Cities and Inequalities: A Global Perspective

20 items

54 percent of the world's population currently lives in urban areas, reaching an expected 66 percent by 2050. These figures are coupled with a stunning 30 percent increase in urban slum population from 1990 to 2014 – reaching 880 million people. Hence, global inequalities seem to be ever more geographically significant and increasingly urban. This class will look at the urbanization of global inequalities and it will discuss the importance of looking at specific cities for understanding global processes.

Essential reading

2 items

Digitisations no longer required

2 items

Social divisions - Geoff Payne 2013

Book Essential See: Scott J., Class and stratification (esp. pp.39-42), available via Online Resource button.

Creative Commons Attribution-ShareAlike 4.0 Licence
Profile Required
Reading intentions and notes are stored against your user profile. Please create a profile to use this feature.
My notes
You must be logged in to add a note
What are item notes?
You can use item notes to make personal notes on any of your reading items. Notes are private to you and will not be shown to other users.
You can review your item notes from the list, the item page or from your profile page.
---
How do I create an item note?
To make notes, first you must be logged in. Once logged in, simply click Add note? next to the list item you wish to make notes on. You can also make notes at the bottom of every item's detail page.
Your note will be saved automatically as you type.
Have you read this?
You must be logged in to set a reading intention
What are reading intentions?
Setting up reading intentions help you organise your course reading. It makes it easy to scan through your lists and keep track of progress. Here's an example of what they look like: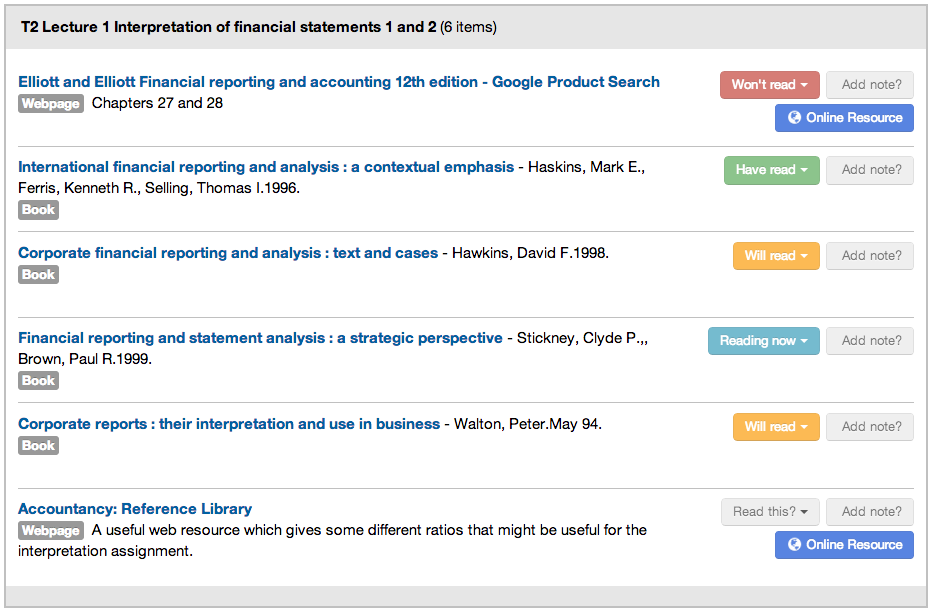 Your reading intentions are also stored in your profile for future reference.
---
How do I set a reading intention
To set a reading intention, first you must be logged in. Once logged in, click Read this? next to the list item you wish to set a reading intention for.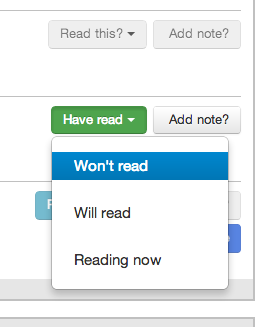 You can also set the reading intention from every item's detail page.