In addition to detailed weekly reading lists, the following texts are recommended as core introductory reading that will give you a good overview of the key debates in human rights as well as the issues and conceptual frameworks employed in the course. While you are not obliged to purchase any books, we would recommend the Goodhart textbook as a good purchase, particularly if you do not have existing foundation in the study of human rights from a social sciences perspective.

Further recommended introductory reading

4 items

Week 1: Introduction: Critical perspectives on the politics of human rights

24 items

In this introductory session we will begin to unpack the contested nature of human rights and also consider what a 'critical' perspective on human rights is and why it is necessary in order to constructively engage with human rights in theory and practice.

Essential Reading

12 items

Examining Critical Perspectives on Human Rights - Rob Dickinson, Elena Katselli, Colin Murray, Ole W. Pedersen 2012 (electronic resource)

Book Further See: Pedersen and Murray, 'Examining critical perspectives on human rights: an Introduction'.

Week 2: Theories and Philosophies of Human Rights

22 items

In this class we build upon the previous three weeks and focus in more detail upon the philosophy of human rights. Using Dembour's typology of human rights we appraise the four approaches of natural law (universalism), deliberative, protest and discourse. We also contextualise this more broadly by debating the political implications of theorising human rights.

Essential Reading

3 items

Universal Approaches

5 items

Discourse Theories

4 items

Week 3: Human Rights: A Critical History Part 1 - Contested Origins

20 items

We begin the course by considering recent scholarship scrutinising the origins of human rights in theory and practice. Although some scholars have traced human rights back to the Greeks and Romans there is no uncontested trajectory of their development. Indeed, attempts to delineate a Western tradition are fraught by charges of false universalism that obscures the exclusion of non-western others. In this class we adopt a critical approach to studying the history of human rights that enables us to engage carefully with their conflicting histories and the implications for contemporary understanding of rights.

Essential Reading

5 items

Human Rights Histories

12 items

Week 4: Human Rights: A Critical History Part 2- The Twentieth Century: Human Rights High Points to the end times of human rights?

58 items

In this class we continue building a critical history of human rights practice and philosophy by examining human rights in the twentieth century. We will examine the supposed 'high points' of the internationalisation of human rights in the mid-twentieth century, the 1970s and the post-cold war world. The critiques of week 3 serve as a continuing framework to engage with non-western perspectives using a focus upon human rights issues in decolonisation and contemporary critiques of human rights that raise questions as to the imperialistic nature of the current human rights regime. We conclude the class with a consideration as to whether we are facing the end times of human rights.

Essential Reading

5 items

Human Rights in the 20th Century

10 items

Human Rights and Decolonization

7 items

The End of Human Rights?

25 items

Part 2 Politics and Practices of Human Rights

11 items

In this section of the course we deepen our understanding of human rights by moving to examine the particular practices of human rights. We consider what activism they have facilitated and where their limitations and contestations become evident. To prepare yourself for part two you should read:

Symposium on Joe Hoover's Reconstructing Human Rights: A Pragmatist and Pluralist Inquiry into Global Ethics:

Third world quarterly - Third World Foundation (Great Britain), EBSCO Publishing (Firm), JSTOR (Organization) (electronic resource)

Journal Further Special Issue: The power of human rights/the human rights of power.

Week 5: Feminist Perspectives on Human Rights and Rights Backlash

35 items

Feminist critiques and campaigning on the limitations of human rights for protecting women have highlighted key tensions in claims about universal access to human rights protection. While transnational feminist activism has transformed the jurisdiction of human rights in legislation, this has also revealed the difficulties of culture, representation and inequality of representation of 'second' and 'third' world women's voices in defining the human rights priorities and practices for women. In addition, despite the successes, women's access to human rights remain under threat globally. In this session, an introductory lecture will outline what a feminist perspective on human rights is and how this transformed the politics and practice of human rights.

Essential Reading

3 items

Backlash Case Study

7 items

Rights: sociological perspectives - Lydia Morris, Dawson Books 2006 (electronic resource)

Book Further See: Elson, D. Women's rights as human rights: campaigns and concepts.

Negotiating culture and human rights - Lynda Schaefer Bell, Andrew J. Nathan, Ilan Peleg c2001

Book Further See: Peach, L J. Are Women Human? The Promise and Perils of Women's Rights as Human Rights. Available online.

Week 6: The Politics of Human Rights Activism – Sakharov Prize for Freedom of Thought

6 items

There are many different approaches and methods to human rights activism and diverse contexts in which those struggling for human rights act. Nowhere is this illustrated better than in the diversity of the nominees for the European Parliament Sakharov Prize for Freedom of Thought. In the first half of the class you will practice your presentation for the evening event. The second half of today's session will consider the politics of Human Rights prizes: Who nominates? Who decides? Which human rights activists are acknowledged, and which not? What emphasis do these prizes place on human rights (e.g. civil/political, social/economic, cultural)? You will work in small groups to present on the various nominees for the Prize. You will prepare for this researching the individuals nominated for this year's prize, examining the context, methods, and constraints of the nominees PRIOR to class (in the groups allocated in week 1).

Essential Reading

6 items

Examining Critical Perspectives on Human Rights - Rob Dickinson, Elena Katselli, Colin Murray, Ole W. Pedersen 2012 (electronic resource)

Book See: Kennedy, D. The International Human Rights Regime: Still Part of the Problem?, and Bell, C. Human rights and the struggle for change: a study in self-critical legal thought.

Week 7: Indivisibility? Social and Economic Rights, Inequality and Neoliberalism

51 items

Economic and social rights including the right to work, education and health have been much more controversial and harder to implement than civil and political rights. Recently they have enjoyed something of a resurgence perhaps in relation to the rise of the global south and the increasing rejection of civil and political rights under conditions of increasing authoritarianism. In this class we examine the key tenets of economic rights and contextualise this within broader debates as whether economic rights can be considered human rights and whether the constitute a desirable and effective means to tackle pressing problems concerning rising inequality. We also debate the relationship between human rights and global neoliberal capitalism more broadly and explore a case study of recent attempts to make transnational corporations accountable via a human rights framework.

Essential Reading

19 items

Human rights - Michael Freeman, Michael Freeman 2017

Book Further See: Chapter 8.

Human Rights, Inequality and Neoliberalism

20 items

Moral conflict and politics - Steven Lukes 1991

Book Further See: Can a Marxist Believe in Human Rights?, pp. 173-188. Available online.

Week 8: LGBT Movement: Liberation, Rights, Co-optation and Backlash

23 items

In many ways the LGBT movement represents one of the more successful human rights movements of recent times evident particularly in the marriage equality movement. However the status of LGBT rights remains subject to debate as high levels of persecution are still faced by LGBT people globally. Previously focused more upon liberation than rights many LGBT critics suggest that the movement has become increasingly conservative - establishing a form of acceptable homonormativity and a narrowed understanding of sexuality premised upon western categories of sexual identity. We utilise LGBT rights to examine how activism may be subject to co-option via states in the form of homonationalism and business via 'the pink pound'. LGBT activism can also indicate the narrowing of activism around particular interests that prevent a more holistic understanding of the intersecting nature of oppression. We also consider how LGBT rights may be advanced effectively in the global South.

Essential Reading

5 items

Sexualities June 2012

Journal Further See: introduction and various articles.

Week 9: Indigenous Rights, Minority Rights and Decolonizing Activism

32 items

This week we will consider how minority 'groups' have been able to make claims using human rights. However, such claims can produce tensions in terms of how claims to culture, religion and group status create both inclusion and exclusion. Key to the discussion will be an exploration of the tension between individual and collective claims as well as the difficulties associated with 'group' claims. We will focus the class around a case study on indigenous people and rights in Australia. We also consider the problems and possibilities of privileged people engaging in activism for/with marginalized people.

Essential Reading

15 items

Decolonizing Activism

4 items

Indigenous Struggles Case Study: Constitutional Reform or Self-determination?

4 items

Optional Extra: Recognise

3 items

Week 10: Reading week - No class

0 items

No class, time to prep essays/finish Sakharov report.

Week 11 Concluding Discussion

1 item

For the concluding session of the course, we will recap the main issues of the course and have a roundtable discussion. We will revisit core course themes and issues: Are human rights universal? Are they Western? What is their relationship to politics/power? What does it mean to have a 'critical perspective' on human rights? What political action can human rights facilitate? What are their limitations? How do they contest and/or entrench global divisions of power?

There is no set reading for this clas.

Creative Commons Attribution-ShareAlike 4.0 Licence
Profile Required
Reading intentions and notes are stored against your user profile. Please create a profile to use this feature.
My notes
You must be logged in to add a note
What are item notes?
You can use item notes to make personal notes on any of your reading items. Notes are private to you and will not be shown to other users.
You can review your item notes from the list, the item page or from your profile page.
---
How do I create an item note?
To make notes, first you must be logged in. Once logged in, simply click Add note? next to the list item you wish to make notes on. You can also make notes at the bottom of every item's detail page.
Your note will be saved automatically as you type.
Have you read this?
You must be logged in to set a reading intention
What are reading intentions?
Setting up reading intentions help you organise your course reading. It makes it easy to scan through your lists and keep track of progress. Here's an example of what they look like: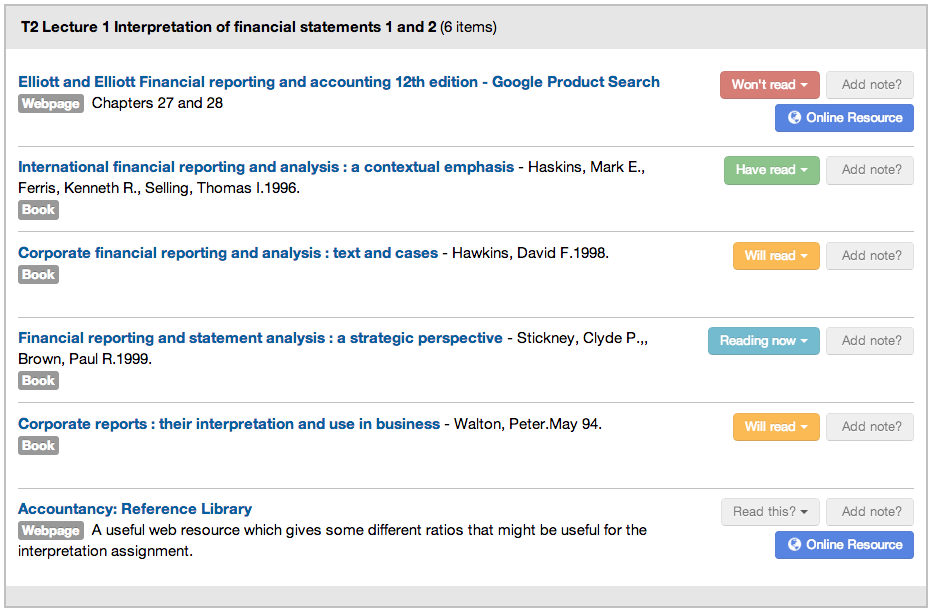 Your reading intentions are also stored in your profile for future reference.
---
How do I set a reading intention
To set a reading intention, first you must be logged in. Once logged in, click Read this? next to the list item you wish to set a reading intention for.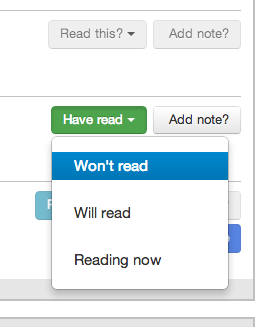 You can also set the reading intention from every item's detail page.