The development of international business since the 1870s
Semester One 2018/19
In 1867 Singer Sewing Machine Company chose the east end of Glasgow for its first overseas manufacturing plant. This is widely regarded as the first ever example of a company engaging in international production. This class will examine the evolution of international business - specifically Foreign Direct Investment - since then, and examine the changing actors in terms of companies and countries as home and host nations.
World investment report - Centre on Transnational Corporations (United Nations), United Nations. Department of Economic and Social Development. Transnational Corporations and Management Division, United Nations Conference on Trade and Development. Programme on Transnational Corporations 1991-

Book

Weeks 1 and 2: FDI 1867-1945

13 items

Concepts - Geoffrey Jones

Chapter Essential This provides an easy introduction into some key terms related to FDI and explains what FDI involves. Skip the section on transaction costs and focus upon the eclectic paradigm otherwise known as Dunning's theory of FDI.

Multinationals and globalization - Geoffrey Jones

Chapter Essential Brief summary of trends re FDI since the 1870s. 1870-1914: favourable policy environment; 1918-1939: economic depression provokes national protectionism that thus requires companies to open plants in multiple European countries to circumvent protectionist measures designed to curb exports; 1945-1978: there were still very few countries that welcomed FDI and these were essentially the rich countries of North America and Western Europe; 1978-2008 - it's party time! Now every country - with a few exceptions - compete to attract greenfield investments and JVs; it's now the golden era for globalization; 2009-present: many MNCs discover that just because a country offers a large market it does not mean that they can succeed in challenging markets; thus companies are moving to de-globalize; since 2016 Trump in the USA, and Brexit in Europe is totally changing the climate for FDI in those regions.

Manufacturing - Geoffrey Jones

Chapter Essential In this class, I will offer you a much more detailed overview of Singer based upon my UG dissertation, and PhD, both of which have been published in edited forms. Please note too the references to the auto industry, notably GM & Ford.

The history of Clydebank - John Hood 19881850701474

Book Essential Please focus upon the sections on Singer only. Chapter 2. Chapter 13

Week 3: The Multinational Corporation or Transnational Corporation

4 items

MNCs or TNCs are responsible for FDI. Without FDI a firm cannot be classified as an MNC.

Week 4: The Road to Globalization 1945 to Present

4 items

Since the late 1970s more and more countries changed their national economic development strategy, moving from import-substation to export oriented economic development. The state plays a vital role in determining whether it is a competitive location for FDI.

Week 5: Inward FDI Trends and Impact with special reference to the UK 1945-1992

9 items

It is evident that there are a number of students in the class from other parts of Europe and Asia. This class will seek to include too the other countries represented by students' nationalities.

Week 6: Japanese Outward FDI

8 items

Week 7: Foreign Divestment

7 items

FDI is driven by market forces. The same forces can cause a location to become non-competitive and when this occurs MNCs reduce or terminate their operations in that location. This reversal is termed foreign divestment.

Foreign Divestment. - McDermott, Michael C. 2010

Article Essential This paper provides an overview of FD trends and theories.

Week 7: International Acquisitions

4 items

Week 8: The North American Dimension: Mobile Investment Post-NAFTA

5 items

This focuses mainly on the USA as a host nation to inward investment in terms of international acquisitions and mobile investments. It considers too the implications of NAFTA and the emergence of Mexcio as a rival destination for mobile investment

Week 9: Asia's Four Tigers

10 items

Week 9: The BRIC Economies & Other Emerging Markets

3 items

Week 10: New Directions and Revision

9 items

Micromultinationals: - Pavlos Dimitratos, Jeffrey Johnson, Jonathan Slow, Stephen Young 2003-4

Article Recommended

Creative Commons Attribution-ShareAlike 4.0 Licence
Profile Required
Reading intentions and notes are stored against your user profile. Please create a profile to use this feature.
My notes
You must be logged in to add a note
What are item notes?
You can use item notes to make personal notes on any of your reading items. Notes are private to you and will not be shown to other users.
You can review your item notes from the list, the item page or from your profile page.
---
How do I create an item note?
To make notes, first you must be logged in. Once logged in, simply click Add note? next to the list item you wish to make notes on. You can also make notes at the bottom of every item's detail page.
Your note will be saved automatically as you type.
Have you read this?
You must be logged in to set a reading intention
What are reading intentions?
Setting up reading intentions help you organise your course reading. It makes it easy to scan through your lists and keep track of progress. Here's an example of what they look like: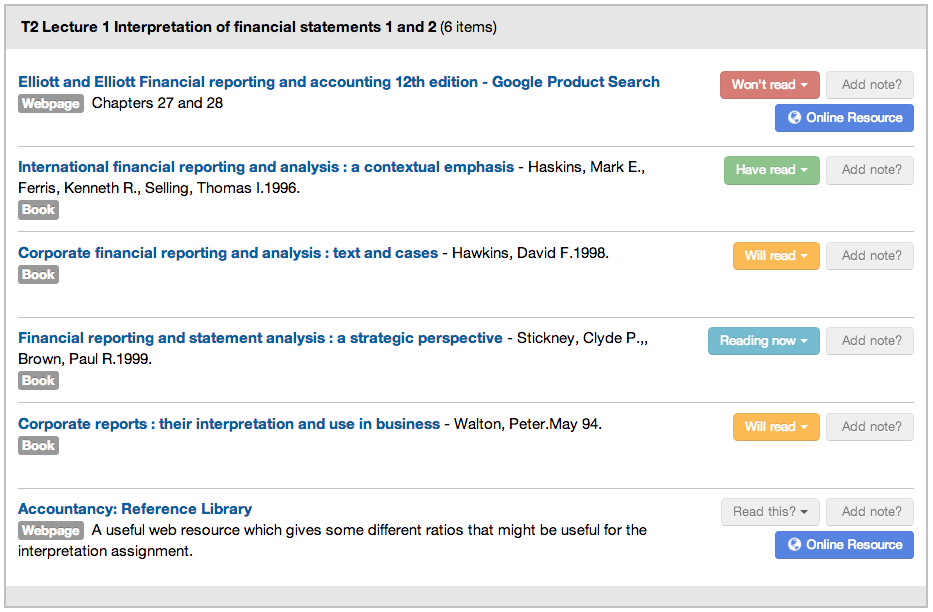 Your reading intentions are also stored in your profile for future reference.
---
How do I set a reading intention
To set a reading intention, first you must be logged in. Once logged in, click Read this? next to the list item you wish to set a reading intention for.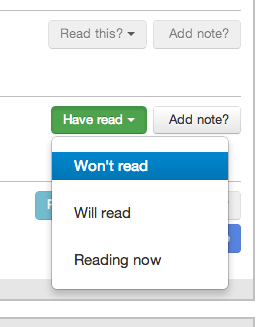 You can also set the reading intention from every item's detail page.