DNA Option Course 2018 - 2019
Semester One 2018/19
Reading List for the Level 4 DNA option - Semester 1 2018/19
This is the reading list for the DNA option course in 2018.

The numbered references listed here are the ones that we think give the best introduction to the topics, but in some sections we have suggested further reference(s) in the notes that might be useful if you want more information. You can find links to all of these "extra references" grouped together at the bottom of the list. The references are mostly reviews; we'll refer to some research papers during the course, and also get you to present some to the class on Days 6-10.


Glasgow University has electronic subscriptions to all the good journals in this field. This reading list should direct you straight to the electronic version of the reference; Just click on the "Online Resource" button next to the reference. You will have to supply your GUID and password the first time you use this feature in every session, but this allows you to access these references wherever you are.

New papers and reviews in the field are coming out all the time. We will probably need to make alterations to the list during the course, and you should try to keep up with recent developments. Look at the latest issues of (e.g.) Cell, Nature, and Science to see what's happening.


Copies of the specialist textbooks mentioned in the list may be available for short-term borrowing on request from Marshall, if you really can't get them by conventional means.

TEXTBOOKS AND REVIEW JOURNALS

3 items

The standard Molecular Biology textbooks in this section all have OK sections on DNA structure and biochemistry. Some also have reasonable introductions to more specialised topics such as chromatin structure, recombination, replication, repair, topoisomerases, site-specific recombination, transposition etc. However, we strongly suggest you also read the more detailed and up-to-date reviews listed below for each topic.

Lewin's genes XII - Jocelyn E. Krebs, Elliott S. Goldstein, Stephen T. Kilpatrick 20189781284104493

Book

2. A Structure for Deoxyribose Nucleic Acid - J.D. Watson, F.H.C. Crick 1953

Article Well worth reading if only because it is the most famous scientific paper ever. For a concise, chatty account of the history and development of the DNA story, read the "50th anniversary" News article by Elizabeth Pennisi, "DNA's cast of thousands", Science, 300, 282-285 (2003).

PROTEIN-DNA INTERACTIONS: BINDING, BENDING, LOOPING

5 items

6. Origins of Specificity in Protein-DNA Recognition - Remo Rohs, Xiangshu Jin, Sean M. West, Rohit Joshi 07/06/2010

Article Fat but very informative review on the ways that proteins bind to DNA. If you would like to read a recent "state of the art" paper on analysis of modes of DNA binding (also from Rohs/Mann group), see N. Abe et al. (2016). Deconvolving the recognition of DNA shape from sequence. Cell 161, 307-318.

7. Crystal Structure of an IHF-DNA Complex: A Protein-Induced DNA U-Turn - Phoebe A Rice, Shu-wei Yang, Kiyoshi Mizuuchi, Howard A Nash 12/1996

Article How IHF, a protein involved in transcription, site-specific recombination, and transposition in bacteria, makes a very sharp DNA bend. Reviewed in K.K. Swinger and P.A. Rice (2004). IHF and HU: flexible architects of bent DNA. Curr. Opin. Struct. Biol. 14, 28-35.

Engineering altered protein–DNA recognition specificity - Adam J Bogdanove, Andrew Bohm, Jeffrey C Miller, Richard D Morgan 01/06/2018

Article Big review describing ways to alter protein-DNA recognition, and explaining the potential functionalities and uses for engineered altered-specificity proteins.

The Biology of CRISPR-Cas: Backward and Forward - Frank Hille, Hagen Richter, Shi Pey Wong, Majda Bratovič 03/2018

Article Recent review detailing the biological functions of CRISPR systems in bacterial cells - what they are actually for. I've also added another recent review on the applications of CRISPR enzymes in the Additional Material below.

New structures of protein-DNA complexes are coming out all the time, and structure papers will be cited in many of the reviews on the Reading list. You should look at some of them to help you to appreciate the variety of ways that proteins and DNA interact.

DNA SUPERCOILING, AND ITS EFFECTS ON TRANSCRIPTION

2 items

Supercoiling in DNA and chromatin - Nick Gilbert, James Allan 04/2014

Article A nice short and clear review on the roles of DNA supercoiling in cells, relevant to Sean's lecture on topology/topoisomerases.

11. DNA topoisomerases: harnessing and constraining energy to govern chromosome topology - Allyn J. Schoeffler, James M. Berger 2008-2

Article A monster article, but very well written, well illustrated and informative review. Just about everything you need to know about topology and topoisomerases is in here somewhere! There's a more recent big review on topoisomerases (S.H. Chen et al. (2013). New mechanistic and functional insights into DNA topoisomerases. Annu. Rev. Biochem. 82, 139-170), well worth a read if you're interested, but I think the Berger one is nicer.

TRANSCRIPTION AND CHROMATIN

6 items

18. Replisome mechanics: insights into a twin DNA polymerase machine - Richard T. Pomerantz, Mike O'Donnell 2007-4

Article Nice pictorial review on the replisome machinery. A recent wee review on the structures and functions of polymerase enzymes is S. Doublié and K.E. Zahn (2014). Structural insights into eukaryotic DNA replication. Frontiers in Microbiology 5, 1-8.

DNA REARRANGEMENTS

5 items

A change of view: homologous recombination at single-molecule resolution - Kyle Kaniecki, Luisina De Tullio, Eric C. Greene 11/12/2017

Article This is a nice new review focusing on the biochemistry of homologous recombination and especially how it can be studied using single-molecule techniques. It's very good on the methods, and along the way gives a modern overview of the molecular events during HR.

22. A moveable feast: An introduction to Mobile DNA.

Nancy L. Craig, Microbiology Spectrum 2014 (doi: 10.1128/microbiolspec.MDNA3-0062-2014).

An excellent, comprehensive review on mechanisms of transposition and site-specific recombination. Contact Marshall if you are having trouble getting this review. There's another nice (shorter) review on transposition in the 'additional references' below by Montano and Rice (2011).

23. Retroviral DNA Integration - Paul Lesbats, Alan N. Engelman, Peter Cherepanov 26/10/2016

Article Clear, beautifully illustrated review on structures and mechanisms of retroviral integrases.

25. The Repair and Signaling Responses to DNA Double-Strand Breaks - Aaron A. Goodarzi, Penelope A. Jeggo

Article Comprehensive recent review of how double-strand breaks are repaired, including immune system V(D)J recombination. A bit daunting in places (ignore some of the reference-dense accounts of prior research) but not as big as it looks! (small pages, 12 of which are title or references).

Additional Reading

11 items

These references are suggested for more detailed information in some areas. They are all mentioned in the notes to the numbered references above.

DNA's Cast of Thousands - E. Pennisi 2003-4-11

Article In addition to Reference 2 (Watson and Crick 1953). A concise, chatty account of the history and development of the DNA story, can be read in this "50th anniversary" News article by Elizabeth Pennisi

Five big mysteries about CRISPR's origins - Heidi Ledford 2017-1-12

Article In addition to reference 9. An interesting mini-article on what we still don't know about CRISPR systems and what they really do for the bacteria that have them.

New Mechanistic and Functional Insights into DNA Topoisomerases - Stefanie Hartman Chen, Nei-Li Chan, Tao-shih Hsieh 02/06/2013

Article In addition to Reference 11 (Schoeffler and Berger 2008). A more recent big review on topoisomerases. Well worth a read if you're interested, but I think the Schoeffler and Berger one is nicer.

Papers for student presentations

10 items

Here are the papers and minireviews accompanying the student presentations on Days 6-10 (only those not in the main list). (One or two are still missing! I'll fix later).

Creative Commons Attribution-ShareAlike 4.0 Licence
Profile Required
Reading intentions and notes are stored against your user profile. Please create a profile to use this feature.
My notes
You must be logged in to add a note
What are item notes?
You can use item notes to make personal notes on any of your reading items. Notes are private to you and will not be shown to other users.
You can review your item notes from the list, the item page or from your profile page.
---
How do I create an item note?
To make notes, first you must be logged in. Once logged in, simply click Add note? next to the list item you wish to make notes on. You can also make notes at the bottom of every item's detail page.
Your note will be saved automatically as you type.
Have you read this?
You must be logged in to set a reading intention
What are reading intentions?
Setting up reading intentions help you organise your course reading. It makes it easy to scan through your lists and keep track of progress. Here's an example of what they look like: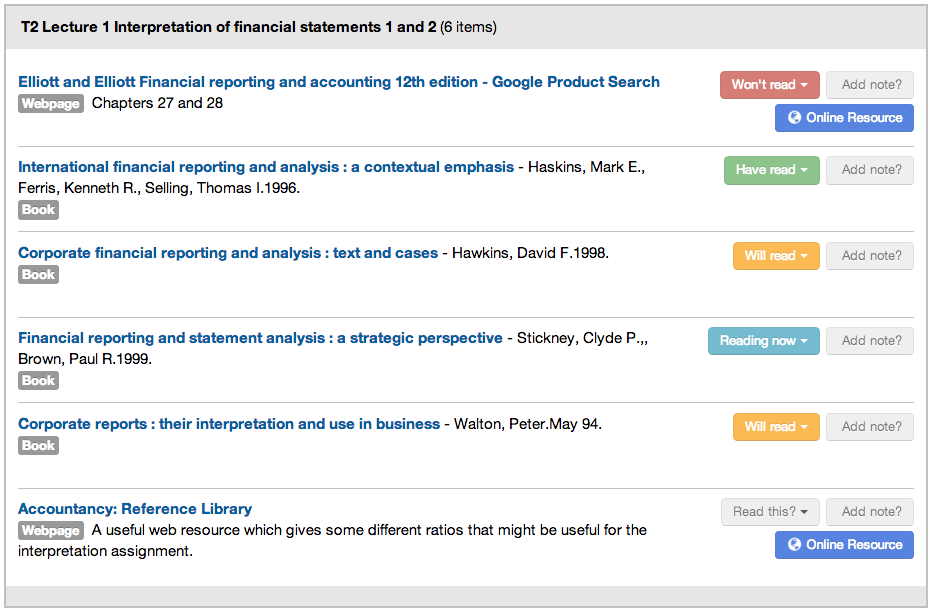 Your reading intentions are also stored in your profile for future reference.
---
How do I set a reading intention
To set a reading intention, first you must be logged in. Once logged in, click Read this? next to the list item you wish to set a reading intention for.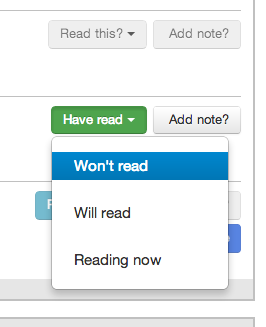 You can also set the reading intention from every item's detail page.